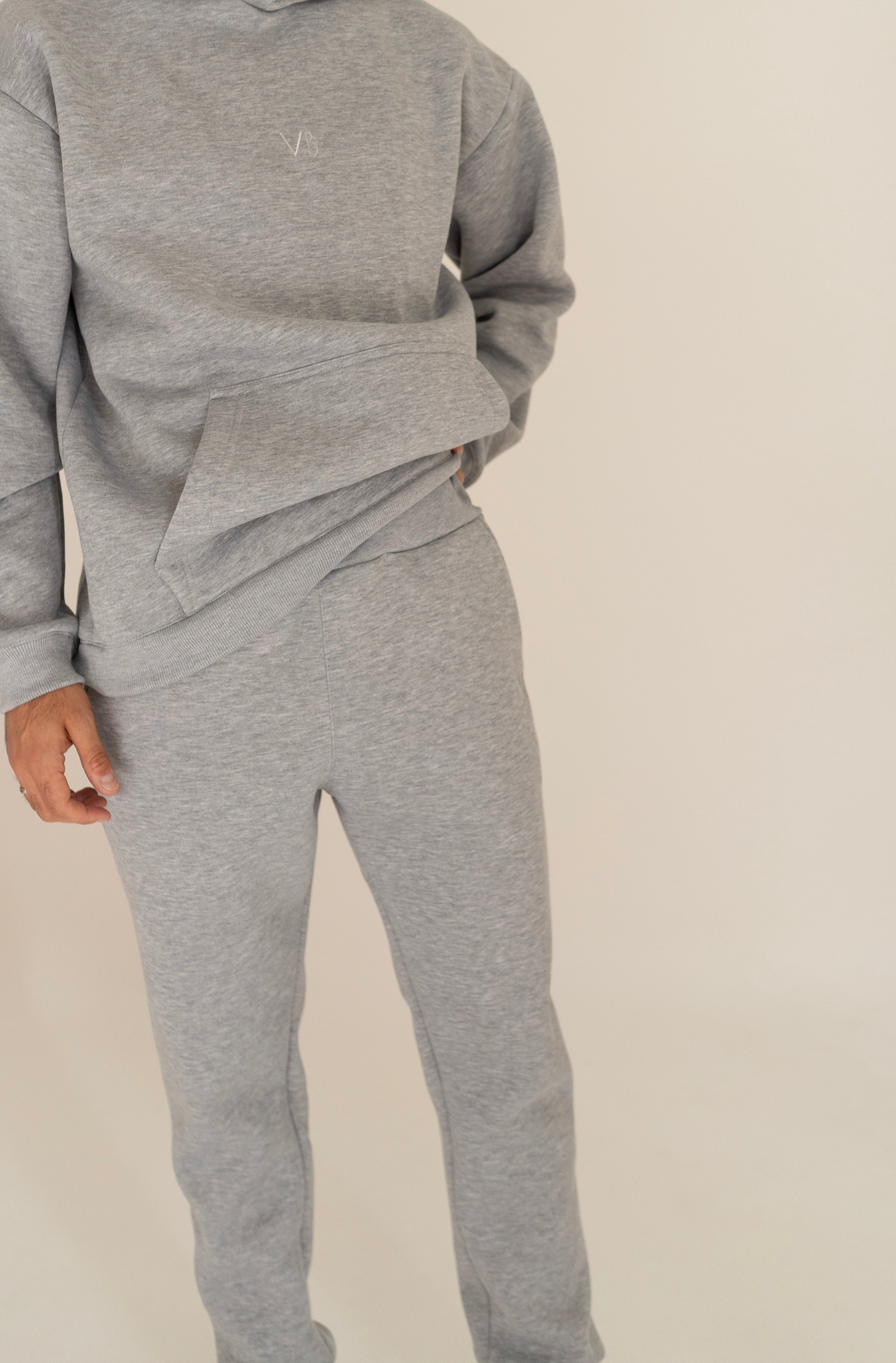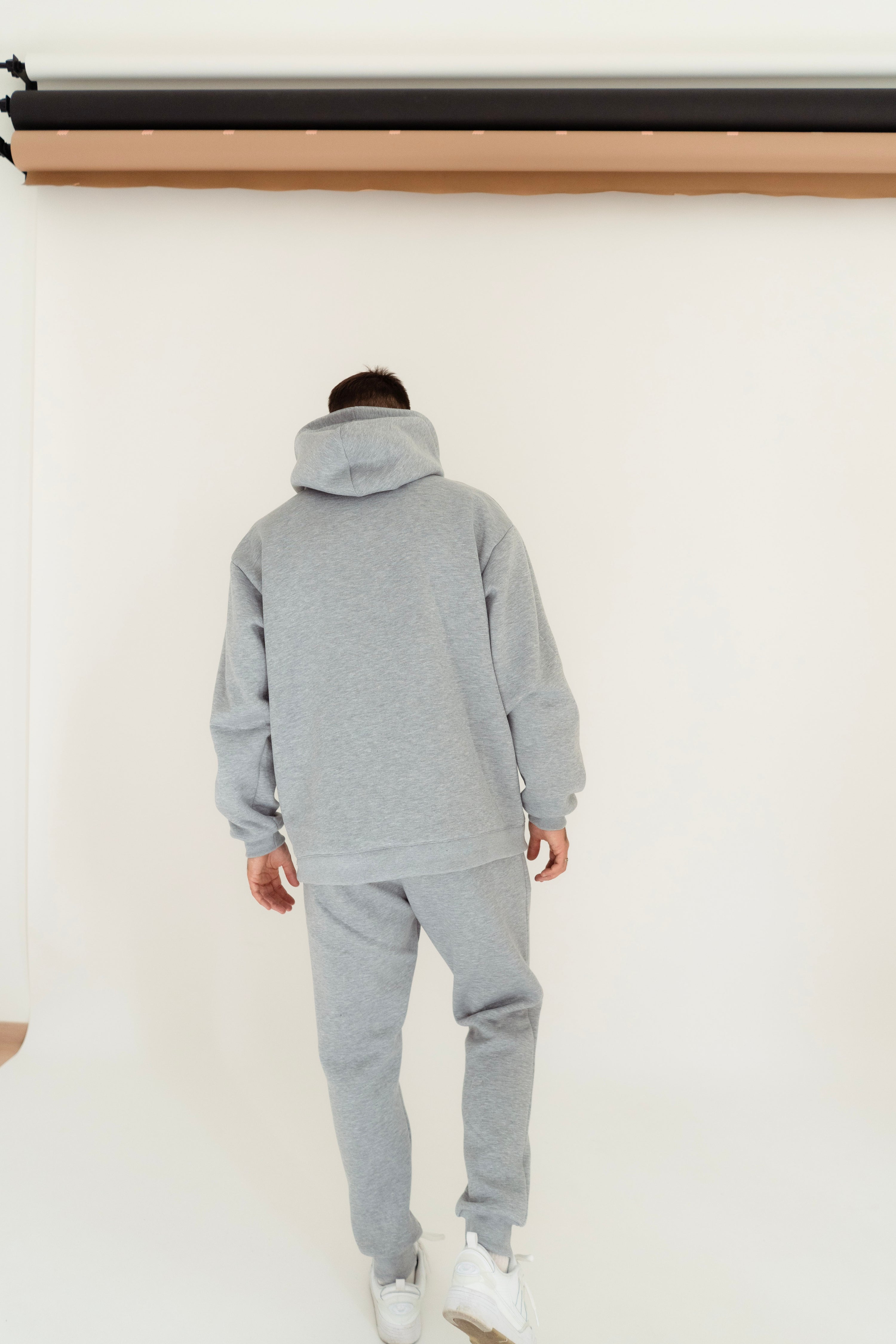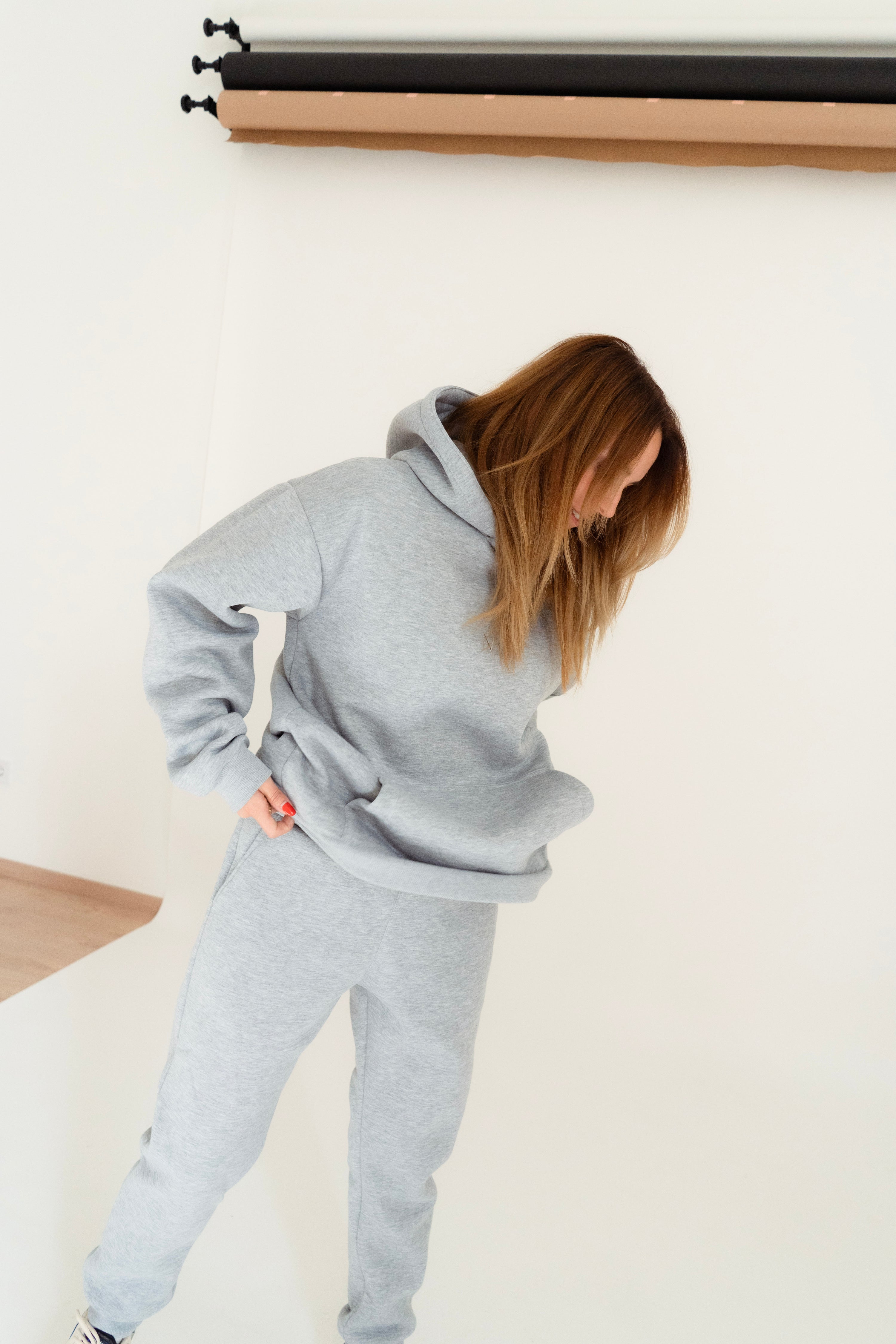 VB UNISEX SWEATPANTS GREY
Description
WASH & CARE
SIZE CHART
RELATED PRODUCTS
Egyenes szabású, laza fazonú melegítőnadrág, melyeket deréknál gumíroztunk, így kényelmesen tudjátok akár derékon, akár csípőn hordani és több méretre is tökéletesen illeszkednek. Prémium, belül bolyhos OEKO-TEX pamut anyagból álmodtam meg 6 unisex színben.
A GREY extra vastag, belül bolyhos prémium pamut anyagból készül.
Kifejezetten úgy terveztük, hogy férfiak és nők is bátran viselhessék! A megalkotásához a férjemet, Dávidot hívtam segítségül és együtt tökéletesítettük, míg pontosan olyan nem lett, mint, ahogy elképzeltük.
A nadrághoz színben tökéletesen passzoló hoodiekat is találtok VB UNISEX HOODIE néven!
Annak érdekében, hogy a lehető legtovább tökéletes állapotban legyen, kifordítva ajánljuk mosni, maximum 30 fokos kímélő programmal. Szárítógépben minimálisan összemehet, ezért inkább levegőn érdemes szárítani.
A gumis passzénak köszönhetően a nadrágok dereka + 5 centit nyúlik.
Méret

Teljes hossz

Derékbőség


Női XS/S
104.5
74


Férfi XS/S
104.5
76


Női M/L
106.5
80


Férfi M/L
106.5
82


VB UNISEX SWEATPANTS GREY
FAQ
WHERE ARE THE PRODUCTS MADE?
All of our garments are made entirely in Hungary and we also source the raw materials here.
IF I BUY AS A GIFT, CAN I SEND A PERSONAL MESSAGE THROUGH YOU?
Naturally! We are always happy to help with this. You can enter the message in the comment section.
WHERE CAN I VIEW THE PRODUCTS IN PERSON?
In our showroom in Budapest!
VIKTORIABOLLA SHOWROOM
Address: Bp 1024 Keleti Károly utca 17.
CAN I ORDER CUSTOM ORDERS (SIZES, STYLES)?
Unfortunately, we are currently unable to make individual orders, we can only make products and sizes found on the webshop.
Shipping and returns
Fast delivery
Your package will usually arrive in Hungary within 3-4 days from the time of payment! The exception to this is 1 week after the start of the collections, in which case, due to the large amount of orders, the delivery of the packages may take longer! In Hungary, packages are delivered to your home by GLS, so your order will usually be with you within 24 hours after dispatch.
Send back
In case of home delivery, you have 14 days from receipt to return the product.
In the case of personal collection, you have 14 days from the email notification to cancel the order or return it. In the showroom, you have the opportunity to try on and review the ordered garment immediately, so you can even ask for an exchange or cancel the purchase on the spot.
Personal collection
You can pick it up in person at the showroom or at the office in Keszthely, during opening hours, usually from the 3rd day after the order is placed. But as soon as your package has been prepared, the system will automatically notify you by email!

Address of the showroom: Budapest 1024 Keleti Károly utca 17 street front
Showroom opening hours:
Thursday: 12.00-18.00
Friday: 12.00-18.00
Saturday: 12.00-18.00
Sunday, Monday, Tuesday, Wednesday: CLOSED

When you pick up your package in Keszthely, we will contact you by email to confirm when you can pick up your package.
Get to know the brand
THE STORY
"While running the 11ground lifestyle blog, I returned to my childhood dream of designing clothes. Namely, clothes that fill us, ordinary modern women, with confidence and self-awareness. I believe that well-chosen basic pieces are the greatest treasures of every stylish woman's wardrobe. Thus, the goal of my love project, i.e. the VIKTORIABOLLA brand, is exactly this, to provide you with these quality basic pieces, in which you can conquer the whole world with your head held high!"
Victoria
WEDNESDAY MODERN PRINCESSES
The term ordinary modern princess may sound very silly at first, but the real meaning of the slogan is: we all grew up with fairy tales, we fundamentally believe in the beauty of life and now in adulthood we try to deal with the challenges of modern life, all while wearing clothes that which, in addition to looking good, gives us strength and confidence. That's why my main motivation for founding the brand was to make garments that represent premium quality in terms of material quality, modeling and sewing, but give an option for the price so that anyone can buy designer pieces instead of fast fashion brands.
MILESTONES
I launched my webshop in November 2018 , which quickly surpassed all my ideas.
I opened my showroom in September 2019 , where we could finally meet in person and even walk in from the street to look around!
In September 2020 - in addition to the seasonal collections - I launched the VB Essentials permanent collection, in which you can find quality basic pieces!
And by the spring of 2022 , the brand has grown to the point that a team of five people is working in the background!